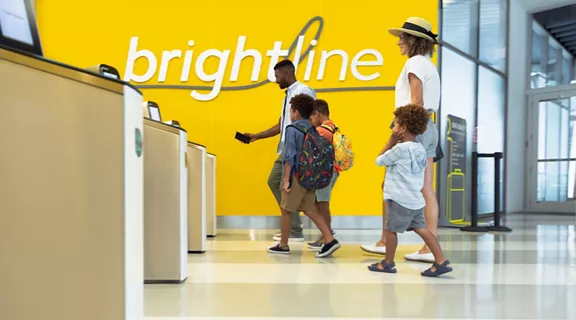 Train passes are currently unavailable.
 Please check back on 7/26 to purchase. 
Save more with Train Passes
RIDE YOUR WAY. YOUR CHOICE.
Experience the advantages of a Train Pass, bringing you unmatched flexibility and savings by eliminating peak fares every single day. Upon purchase, your Train Pass is effortlessly added into your Brightline Wallet.
Find Your Perfect Train Pass.
Every traveler is unique. Customize your trip with SMART or PREMIUM Service selections for an enhanced experience.
Feature

All-Station Shared Pass

SoFlo Shared Pass

SoFlo Solo Pass

Travel Range

All Stations
(Including Orlando)

South Florida stations only

South Florida stations only

Number of Rides

12

12

40

Validity Period of Rides

Use within 90 days

Use within 30 days

Use within 30 days

Starting Price

$1199

$229

$399

Can be Shared with Others?

Yes

Yes

No

Choose between Services

SMART & PREMIUM

SMART & PREMIUM

SMART & PREMIUM

Consistent Fare Rates

Yes

Yes

Yes

Guaranteed Price

Yes

Yes

Yes

Discounts with Auto-Renew

No

No

Yes

Special Happy Hour Discounts

No

No

Yes
Your Journey, Your Style
SMART or PREMIUM?
Choose your service and amplify your travel experience.
Business-class comfort with an array of food and beverages available for purchase.
Complimentary onboard WiFi

Hand-stitched leather seats

Multiple power & USB Type-A or USB Type-C outlets at each seat
First-class experience with added amenities to take care of your every need.
PREMIUM Lounge access
Complimentary drinks and bites
Extra seat space
Frequently Asked Questions
The recent introduction of Orlando service is a significant step toward realizing our longstanding vision of seamlessly connecting South and Central Florida and it requires updates to our train schedules and Train Pass offerings. The transition from the Commuter Pass to the SoFlo Solo Pass is designed to provide our Guests with a flexible travel option, starting at just $10 per ride – a great value. This change underscores our commitment to evolving with our passengers' needs, ensuring a smoother and more cost-effective journey between these key regions.
The Commuter Pass is evolving into the SoFlo Solo Pass. While it's designed specifically for individual travelers, it retains many of the benefits of the Commuter Pass, such as 40 rides valid within 30 days and consistent fare rates.
The Family & Friends Pass is getting a fresh name – SoFlo Shared Pass. The essence of the Pass remains unchanged; it's merely a name change to emphasize the concept of shared travel.
Yes, we're rolling out the All-Station Shared Pass. This is the only Train Pass that supports travel between South Florida and Orlando, with 12 rides valid for 90 days.
Yes, if you're enrolled in auto-renew for your Commuter Pass, you will need to make a fresh purchase for the SoFlo Solo Pass once your current Train Pass expires. Make sure you opt-in for auto-renew with your new purchase.
As we enhance our services between South Florida and Orlando, there may be changes in our train schedule. Always refer to our website for the most up-to-date schedule information.
Once you purchase a Train Pass, it's added to your Brightline Wallet, ensuring a seamless journey. Depending on the Train Pass you choose, you'll have a certain number of rides that are valid for a specific period. These can be used according to your convenience.
Yes, you can purchase and have multiple types of Train Passes.
Whether you need the SoFlo Solo Pass for your individual needs and the SoFlo Shared Pass for trips with family and friends, you can customize your experience based on your travel. Just remember that each Train Pass type has its own set of benefits and rules, so be sure to review the specifics of each before making a purchase.
The Solo Travel Pass offers both discounts with monthly 5% auto-renewal and special happy hour discounts. The other Passes do not have these specific discounts.
Passes can be selected for your individual travel needs and range in price. To view prices, please select your pass in the Train Pass widget.
Convenient Parking Options.
In South Florida, enjoy the benefit of adding parking to your Brightline fare for a flat rate of $7/day when you book in advance. Daily parking rates begin at $15. Monthly parking passes are available from $75.