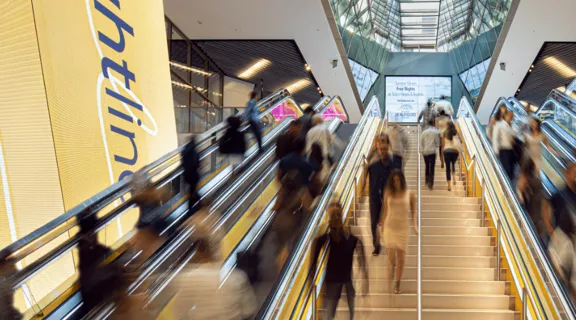 Smart Stations
Stations designed with you in mind.
Bright and airy with world-class amenities, our goal is to make it as easy as possible to get on board, skip traffic, and arrive in the heart of Florida's top destinations.
Book rides on our website or with our app. Automated ticket kiosks are also available at each station.
Scan through using the barcode on your ticket — accessible via all smart phones and our app.
PREMIUM ticket holders can enjoy exclusive access to our PREMIUM lounge, complete with snacks and sips.
Just add Parking at checkout and you can use the same ticket to enter our garage, find a spot, and board your train.
Powerful and free WiFi is available in-station and onboard. Just choose the Brightline network, no password required.
Mary Mary, our in-station bar, >>MRKT, and our PREMIUM Lounges offer plenty of tasty sips and snacks.
Connect all the stops
Brightline+ gets you there.
Brightline+ offers a wide variety of options to get you to and from the station—just add a ride to your train fare.