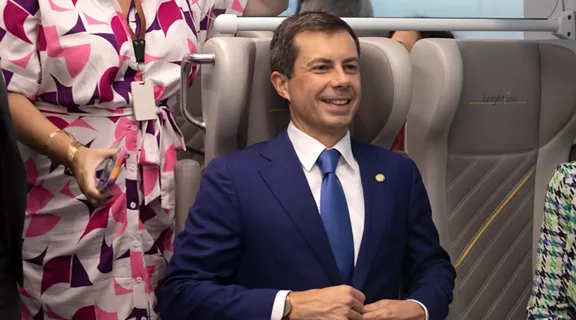 October 17, 2023
GO BRIGHTLINE: USDOT SECRETARY PETE BUTTIGIEG TAKES A RIDE ON BRIGHTLINE
WEST PALM BEACH, Fla. (Oct. 17, 2023) – Today, Brightline, the only provider of modern, eco-friendly intercity passenger rail in America hosted U.S. Department of Transportation Secretary Pete Buttigieg. Secretary Buttigieg traveled along Brightline's South Florida route from its downtown West Palm Beach station to Fort Lauderdale, accompanied by Brightline Founder Wes Edens, CEO Mike Reininger, and President Patrick Goddard. Secretary Buttigieg is visiting South Florida to highlight major investments in the area made possible by President Biden's Bipartisan Infrastructure Law.
Secretary Buttigieg met with reporters after the ride and said: "transportation is such an important part of our daily routines. This is a bright area of America moving forward for high-speed rail. We should have the best rail in the world, and there is no cosmic reason why a US citizen can't have access to high-speed rail like those found in countries like Japan and Germany."
"We were delighted to welcome Secretary Buttigieg and to show him how Brightline is reinventing train travel in America. It means a lot when public officials–at every level–visit our operations and recognize the impact our team is having on the industry. We've had a meaningful partnership with USDOT and the FRA and today's visit highlights the strength of that relationship," said Patrick Goddard, President of Brightline.
Upon arrival at Brightline West Palm Beach, Secretary Buttigieg was welcomed by Palm Beach County Mayor Greg Weiss, Broward County Mayor Lamar Fisher, Boca Raton Mayor Scott Singer, and Mayor of Palm Beach Gardens Chelsea Reed. The secretary was joined by local transit officials and business leaders who have seen and realized the benefit of Brightline's service and multi-billion dollar investment in Florida.
The secretary also got a first hand briefing on Brightline's Notch 8 conductor training program firsthand, meeting a current conductor and graduate that began her career as a train attendant. Notch 8, is a 14 week intensive course offered to Brightline Teammates that are interested in developing the skills required to become an essential part of our Transportation team – a conductor with Brightline. Under this program, teammates are not only trained and certified at no cost to them, but they are also paid to receive their education on-site. Brightline's program empowered dozens of teammates to break through barriers and build a transportation crew that is now proudly 20 percent women.
Upon arriving at Brightline Fort Lauderdale, Secretary Buttigieg was greeted by Mayor Dean Trantalis and briefly spoke to the media about his Brightline journey and the significance of infrastructure investment.
Brightline launched operations in South Florida in 2018, connecting Miami, Fort Lauderdale, and West Palm Beach, with stations in Boca Raton and Aventura opening last year. Construction on the 170-mile extension from West Palm Beach to Orlando began in 2019 and opened for service on September 22, 2023, making it the first intercity passenger rail in the U.S. to open in over a century. The $6 billion project has generated substantial economic benefits in Florida, creating 10,000 jobs and approximately $6.4 billion in direct economic impact to the region. Construction teams worked for more than seven million hours over the course of four years to complete the project.
Brightline has bold plans to transform high-speed rail in the U.S., starting on the West Coast with its next project, Brightline West. Brightline West will be the nation's first true high-speed rail network with fully electric trains operating at top speeds of 200 mph. Slated to break ground by the end of 2023, the line will connect millions of people traveling annually between Los Angeles and Las Vegas.
ABOUT BRIGHTLINE
Brightline is the only provider of modern, eco-friendly, higher-speed rail service in America. The company currently serves Miami, Aventura, Fort Lauderdale, Boca Raton, West Palm Beach and Orlando. Brightline was recognized by Fast Company as one of the Most Innovative Companies in Travel and included in Condé Nast Traveler's 2023 Hot List for the best new ways to travel. Offering a guest-first experience designed to reinvent train travel and take cars off the road, Brightline plans to bring its award-winning service to additional city pairs and congested corridors across the country that are too close to fly and too long to drive, with immediate plans to connect Las Vegas to Southern California. For more information, visit www.gobrightline.com and follow us on Facebook, Instagram, and Twitter.