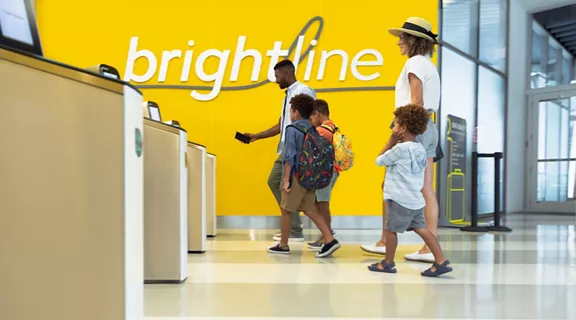 October 16, 2023
BRIGHTLINE INTRODUCES NEW TRAIN PASS FOR TRAVEL BETWEEN ORLANDO AND SOUTH FLORIDA: ALL-STATION SHARED PASS
Unveils Enhanced South Florida Pass Offerings Designed for Seamless Travel
Orlando, Fla. (October 16, 2023) - Brightline, the only provider of modern, eco-friendly intercity passenger rail in America, has announced a new All-Station Shared Pass. The introduction of the All-Station Shared Pass underscores Brightline's commitment to evolving passengers' needs, ensuring a smoother and more cost-effective journey between Orlando and Miami. The only pass connecting repeat travel between Orlando and Brightline's five South Florida stations, The All-Station Shared Pass eliminates peak fares every day of the week for frequent travelers between the two regions. All Brightline Passes can be purchased on the app or by visiting the website at gobrightline.com/train-tickets/passes.
"The All-Station Shared Pass is designed for guests who plan to travel frequently between South Florida and Orlando, and want ultimate flexibility to book trips on demand with consistent fare rates and no unexpected fees or blackout dates," says SVP of Marketing & Commercial Strategy Barbara Drahl. "The pass can be shared to book rides for friends, family, and colleagues, putting guests in control to embark on adventures, business meetings, and cherished family getaways with ease."
Starting at $1,199 for SMART Service, the All-Station Shared Pass offers ultimate flexibility for travelers with:
Expansive Travel Range connecting stations in Orlando, West Palm Beach, Boca Raton, Fort Lauderdale, Aventura and Miami.

Ample Rides: A total of 12 rides valid for 90 days.

Shareable between friends or family.

SMART or PREMIUM service options.

Predictable Pricing with consistent fare rates and no unexpected fees or blackout dates.
SOUTH FLORIDA PASS OPTIONS
SoFlo Solo Pass
Brightline is introducing the new SoFlo Solo Pass, exclusive to South Florida travel. With fares starting at just $399 for SMART class, this pass, which replaces the current commuter pass, is designed for individual use, allowing guests to explore sunny South Florida at their own pace.
Perfect for those looking to explore Brightline destinations throughout South Florida, the SoFlo Solo Pass Includes 40 rides to be used within a 30-day period and:
Predictable Pricing with consistent fare rates starting under $10 per ride and no unexpected fees or blackout dates.

Station Flexibility now valid for travel between all South Florida stations.

SMART or PREMIUM service options.

Monthly auto-renew savings of 5 percent.

Happy Hour specials and discounts.
SoFlo Shared Pass
Brightline's new SoFlo Shared Pass retains the great perks guests know and love to share with their family and friends while exploring South Florida Brightline Station destinations. The SoFlo Shared Pass includes options between SMART and PREMIUM services, predictable pricing, and auto-renew savings.
The existing corporate discount for Brightline for Business will remain in effect. Companies and guests looking for business travel packages can find more information by visiting Brightline for Business at gobrightline.com/train-tickets/corporate.
Last week, Brightline increased its service to meet the demands of its recent Orlando expansion, now offering 30 hourly departures between Orlando and South Florida. For more information and the latest train schedules, visit gobrightline.com.
About Brightline
Brightline is the only provider of modern, eco-friendly, higher-speed rail service in America. The company currently serves Miami, Aventura, Fort Lauderdale, Boca Raton, West Palm Beach and Orlando. Brightline was recognized by Fast Company as one of the Most Innovative Companies in Travel and included in Condé Nast Traveler's 2023 Hot List for the best new ways to travel. Offering a guest-first experience designed to reinvent train travel and take cars off the road, Brightline plans to bring its award-winning service to additional city pairs and congested corridors across the country that are too close to fly and too long to drive, with immediate plans to connect Las Vegas to Southern California. For more information, visit www.gobrightline.com and follow us on Facebook, Instagram, and Twitter.
###
Media Contacts
Katie Mitzner, director of public affairs
katie.mitzner@gobrightline.com
Vanessa Alfonso, director of media relations