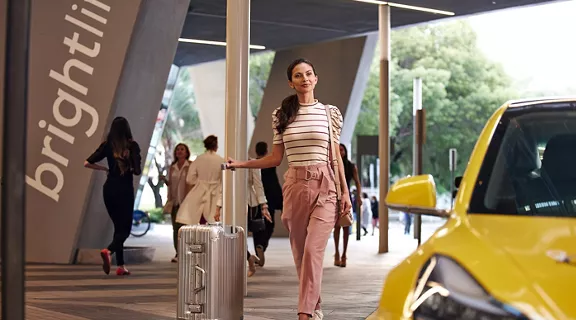 Travel Professionals
Connecting Orlando and South Florida.
For the first time, higher speed rail service now connects Orlando and Miami, bringing new opportunities for Guests visiting The Sunshine State. With a direct connection at Orlando International Airport (MCO), Brightline Orlando Station in partnership with Orlando Health offers a travel alternative that's faster, more fun, and less stressful than driving or flying. Higher speed rail service connects Orlando to West Palm Beach, Boca Raton, Fort Lauderdale, Aventura, and Miami, with stations centrally located in each city.
Tickets between South Florida and Orlando are on sale. Reserve your Orlando fares and prepare your holiday plans ahead of time.
If you're a travel industry professional based in the United States or Canada, you now qualify to receive commissions on your Brightline fare sales.
Earn along the way
Program Perks
* The Brightline Travel Professional Program, the Terms for Travel Professsionals, and commission rates are subject to change. Discounts may not apply to all fares. Only successfully registered professionals will receive the discount minus pass-through fees and/or taxes on purchases traveled, as applicable. All reservations and purchases are subject to Brightline's travel policies and Terms of Service. Available to travel advisors based in the United States and Canada only.
Cruise Ports near our stations
Brightline MiamiCentral Station ↔ Port Miami

Brightline Fort Lauderdale Station ↔ Port Everglades

Brightline West Palm Beach Station ↔ Port of Palm Beach

Brightline Orlando Station ↔ Port Canaveral
Brightline+ offers a wide variety of options to get your clients to and from our stations. In collaboration with Uber, Brightline+ connects all the stops.
Frequently Asked Questions
There are no change or cancellation fees until four minutes prior to the scheduled train departure time.
You can change departure times, seat assignment, guest information, fare class, and extras such as checked bags by navigating to My Trips on our app or by logging into our website to find your reservation. Changes may affect the fare and you will be charged any price difference between your original booking and the cost of your new booking.
You can cancel a reservation up to four minutes prior to train departure time on our website or app by logging in and navigating to My Trips.

Reservations must be canceled at least 4 minutes before departure time for a full refund in the form of credit. Cancellations made within 4 minutes of scheduled departure will cancel the entire reservation and are non-refundable. In this instance, the passenger will forfeit the value of the ticket.
If a client misses their train then this will cancel the entire reservation and the guest will forfeit the value of the ticket. No refunds will be given.