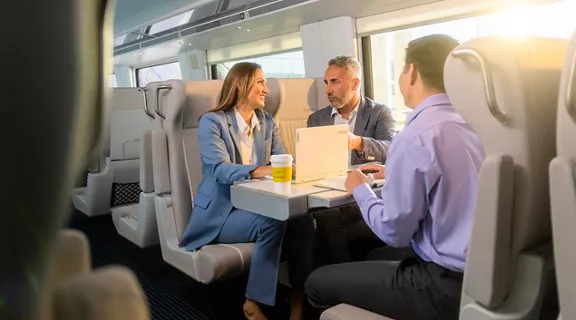 Corporate Travel Benefits
Travel that's better for business.
Throughout South Florida, and Now Open in Orlando, we're empowering businesses, clients, and everyone in between to do their best work. Save with fixed rates for all your business travel needs. Book your ride using our simple and accessible custom portal, giving you full control over your travel budgets. Streamline your travel by digitally transferring single or bulk rides for employee business travel or provide clients and Guests with an all-in-one portal.
Lock in our lowest fares with a Corporate Ticket Bank.
Orlando tickets are now on sale, purchase tickets upfront to lock in fares starting at $79 for one year.
SMART $79 | PREMIUM $149

All-access travel (travel between any station) at one rate

Corporate Clients receive exclusive flexible travel options, here are some of the benefits

Book and Travel any date, any time*

Avoid variable pricing with Fixed Rates

No change or cancellation fees

Tickets valid for 1 year

Fully transferable to share with whomever; employees, clients, partners, etc.
The Perks.
Cost comparisons are just the start, but they're a big one. On average, Brightline for Business offers more competitive rates than flying, driving, or ridesharing. The comfort, convenience, and added amenities make traveling by train a top-tier choice.
Differentiate your business from the rest, supplement your existing travel options, or make Brightline your primary mode of business travel.
Swipe left to view perks.
Brightline for Business Corporate Portal
Save with fixed-rate rides to use for whatever your business needs are. Rides are accessible via our custom portal, giving you more control and the ability to easily manage travel budgets.
Streamline your travel by digitally transferring single or bulk rides for employee business travel or provide clients and guests with this amenity–all in one portal.
Frequently Asked Questions
FAQs to help you book your next corporate event
We have our Corporate Ticket Bank with Introductory Rates – rates never to be seen again, for a limited time only – to take advantage and learn more, fill out the form and we'll be in touch soon!
Comprised of one-way rides purchased upfront at a fixed rate to avoid variable pricing, available in both classes of service – SMART and/or PREMIUM, fully transferable and all managed via your own portal. This Ticket Bank is yours to use as you wish – business travel, client appreciation, Guest amenities, and so much more.
All of our products work the best when there is high volume and/or frequency or if you value fixed rates to manage expenses. Knowing the travel as well as potential travel when we open service Orlando will be helpful to ensure your company reviews the best product(s) for your needs.
The Corporate Travel Program provides your entire company a discount off our prevailing fares for travel between South Florida stations only. Create a Brightline Account with your work email domain and the corporate discounts will automatically apply at the last page, 'Checkout'.
All travel agreements are facilitated and implemented at the company level by a business decision maker. All corporate solutions have agreements in place, please check internally to see if something is in place for your company.
There isn't a minimum number of employees. However, there is a minimum of rides and/or investment depending upon the product you are interested in.
Brightline for Business caters to the Central and South Florida business community who travels along our corridor and is looking for an alternative or supplement to their current travel options. With our flexible and seamless products, the Florida business community can now focus on the tasks at hand without worrying about showing up to the airport an hour early, lack of WiFi, the uncontrollable traffic and discomfort of what we know today in business travel. Give your company a preferred way to travel to be proud of that you can budget for, avoid hotel stays, go green and promote a better work-life balance.