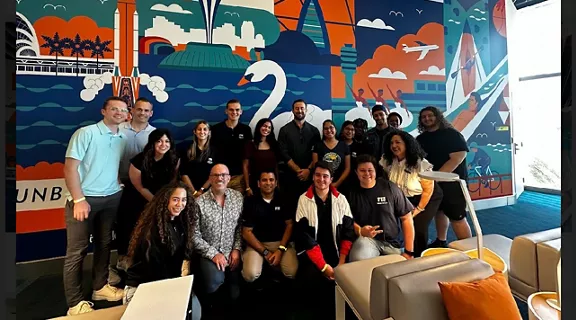 October 10, 2023
FIU HOSPITALITY STUDENTS TAKE PART IN INNOVATIVE GUEST EXPERIENCE COURSE WITH BRIGHTLINE
MIAMI (October 10, 2023) – Students from top-10 ranked FIU's Chaplin School of Hospitality & Tourism Management recently received an insider glimpse of Brightline's service to Orlando, America's only private intercity rail service, during an intensive University course. Students toured Brightline MiamiCentral, listened to presentations by Brightline executives before taking the train to Brightline Orlando Station presented by Orlando Health.
The group of 12 students learned about Brightline's hospitality-driven guest experience from Brightline leaders representing its many departments including operations, guest service, marketing, safety and security, technology and innovation. They also created and were judged on their proposals to enhance the guest experience while also generating a new revenue stream.
"FIU is committed to giving our students experiential learning opportunities in the hospitality industry and thanks to Brightline, the students took part in an amazing collaboration and groundbreaking course with its top executives and even aboard a Brightline train," said Michael Cheng, Dean of the Chaplin School.
The university course called PODs (Programming on Demand) are one credit, intensive courses generally offered for 15 hours either over a weekend or online. Three one-credit PODS equal one three-credit elective. PODs offer students hands-on experience in the hospitality and tourism industry and have provided a vehicle to teach soft skills and cutting-edge ideas.
"It was an honor to partner with FIU, my alma mater, to provide this diverse group of students a unique learning opportunity as part of our shared mission of creating pathways to success for emerging talent in the hospitality industry. We here at Brightline, are looking forward to this continued partnership," said Jennifer Hadjez, Director of Learning and Development for Brightline.
"Our Brightline team shares FIU's passion for hospitality and we are delighted to be the first transportation company to host a POD, collaborating in the education of the next generation of leaders in the industry," shared Brightline President Patrick Goddard. "I enjoyed meeting this talented group, fielding their questions and have a strong belief the future is bright thanks to the outstanding faculty at the Chaplin School."
"This amazing collaboration between Brightline and FIU's Chaplin School is unique, innovative, educational, and cutting edge. To the extent of my research, no other post-secondary hospitality program in the country has done anything like this," said Oren Hertz, Clinical Assistant Professor and the course professor. "It was truly a pleasure working with them on this educational endeavor," he ended.
About Florida International University's Chaplin School of Hospitality & Tourism Management
Florida International University's Chaplin School of Hospitality & Tourism Management is a Top 10 hospitality school among U.S. Public Universities and ranked 35th in the world. Nearly 2,000 undergraduate and graduate students from across the nation and around the globe choose FIU for its outstanding reputation, advantageous campus locations in Miami, expert faculty, rich curriculum and real career opportunities in the international hotel, foodservice, beverage and spirits management, travel, tourism, revenue management, entertainment, and mega and large-scale event industries. As the leading diverse hospitality program with over 70% women and students from 74 countries represented, Chaplin School graduates more undergraduate Black, Hispanic and International students than any other school. For more information about Florida International University's Chaplin School of Hospitality & Tourism Management, visit http://hospitality.fiu.edu.
About Brightline
Brightline is the only provider of modern, eco-friendly, higher-speed rail service in America. The company currently serves Miami, Aventura, Fort Lauderdale, Boca Raton and West Palm Beach, with Orlando beginning service on Sept. 22, 2023. Brightline was recognized by Fast Company as one of the Most Innovative Companies in Travel and included in Condé Nast Traveler's 2023 Hot List for the best new ways to travel. Offering a guest-first experience designed to reinvent train travel and take cars off the road, Brightline plans to bring its award-winning service to additional city pairs and congested corridors across the country that are too close to fly and too long to drive, with immediate plans to connect Las Vegas to Southern California. For more information, visit www.gobrightline.com and follow us on Facebook, Instagram, and Twitter.
###
Media Contact:
Michael Hicks
Ivonne Yee-Amor