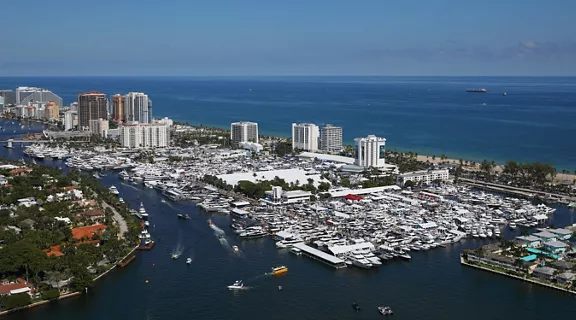 October 18, 2023
CENTRAL FLORIDA BOATERS RIDE AND SET SAIL ON BRIGHTLINE TO FORT LAUDERDALE INTERNATIONAL BOAT SHOW OCT. 25-29, 2023
MIAMI (Oct. 18, 2023) - Brightline, the only provider of modern, eco-friendly, intercity rail in America, is once again partnering with the Fort Lauderdale International Boat Show (FLIBS) taking place Oct. 25-29, 2023. Those interested in major events like FLIBS can now benefit from a car-free connection through expanded service offered by Brightline, catering to Central and South Florida's marine industry.
Brightline guests attending FLIBS, coming from Miami, West Palm Beach, Aventura, Boca and now Orlando can ride to the largest in-water boat show in the world with trains to Brightline Fort Lauderdale Station. Complimentary shuttles provided by the boat show are available from the Brightline station to the Riverside Hotel as part of the show's shuttle service. Specialty-themed cocktails will be available at Brightline's Mary Mary Bars throughout the duration of the show including a specialty drink, the Rumgroni, with Havana Club.
"FLIBS is one of South Florida's premier fall events, a global gathering of boating enthusiasts descending on South Florida," said Brightline Senior Vice President Partnerships and Sales Johanna Rojas. "With new Orlando service, we look forward to connecting guests from Central Florida to experience this exciting weekend on the water."
Owned by the Marine Industries Association of South Florida (MIASF) and produced by Informa Markets, FLIBS will take place across seven iconic locations including the renowned Bahia Mar Yachting Center and the Broward County Convention Center (BCCC). Guests will be able to enjoy over 100 food concessions and satellite bars throughout the show, showcasing a delectable spread of food options all weeklong. Those interested in the most luxurious yachts and sea vessels will be able to explore the latest in luxury at the Superyacht Village.
Events and boat displays will be open Wednesday, October 25 from 12 p.m. to 7 p.m. and Thursday through Saturday 10 a.m. - 7 p.m. and Sunday 10:00 a.m. to 6:00 p.m.
"We believe this year's event is shaping up to be our best show yet," said Andrew Doole, President of U.S. Boat Shows with Informa Markets. "I'm immensely proud of our partnership with Brightline, ensuring that guests from central and south Florida can access the show effortlessly and embark on an unforgettable journey into the world of marine splendor."
For more information about the 64th annual Fort Lauderdale International Boat Show, please visit www.flibs.com and for a schedule of trains including designated FLIBS trains visit www.gobrightline.com.
About Brightline
Brightline is the only provider of modern, eco-friendly, intercity rail in America. The company currently serves Miami, Aventura, Fort Lauderdale, Boca Raton and West Palm Beach with its Orlando station beginning service in 2023. Brightline was recognized by Fast Company as one of the Most Innovative Companies in travel, offering a guest-first experience designed to reinvent train travel and take cars off the road. Brightline plans to bring its award-winning service to additional city pairs and congested corridors across the country that are too close to fly and too long to drive, with immediate plans to connect Las Vegas to Southern California. For more information, visit www.gobrightline.com and follow us on Facebook, Instagram, and Twitter.
About Fort Lauderdale International Boat Show
The Fort Lauderdale International Boat Show (FLIBS) is a premier event organized through a collaboration between Informa Markets and the show's owners, the Marine Industries Association of South Florida (MIASF). FLIBS is one of the largest and most prestigious boat shows globally, showcasing the latest innovations, trends, and products in the marine industry. This event brings together buyers and sellers from the boating and marine sector, providing a unique platform to engage, experience, and conduct business. For additional information, please visit www.miasf.org and https://www.informamarkets.com/.
###
Media Contact
Vanessa Alfonso, director of media relations at Brightline
vanessa.alfonso@gobrightline.com