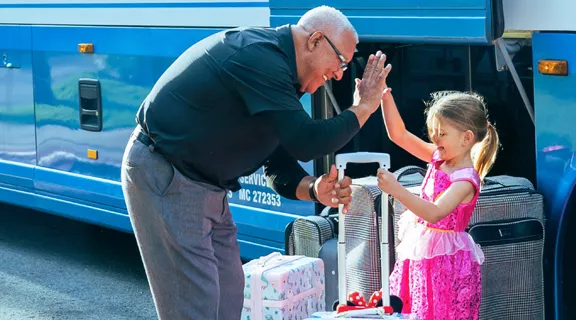 The Brightline+ fleet just got brighter with the addition of Mears in Orlando. Guests traveling to or from Brightline Orlando Station can enjoy a seamless and connected experience through our Shared Connect Shuttles and Luxury Private Rides, both powered by Mears.
Shared Connect Shuttles Powered by Mears
Say hello to Orlando's exclusive 24/7, Florida-themed shuttle service. Effortlessly connect to and from Orlando International Airport and Walt Disney World® Resorts. This shared shuttle service provides access to over 25 top resorts. Exceptional convenience comes standard: one-way adult fares start at just $16, and child fares begin at $13. As a bonus, little adventurers aged 3 and under ride for free.
Luxury Private Rides Powered by Mears
For Guests seeking to elevate their Orlando travels to the level of luxury they've come to expect from Brightline+, we introduce Luxury Private Rides powered by Mears. Arrive in style at your Orlando destination aboard our carefully curated fleet of luxury sedans, plush SUVs, and versatile vans. Elegance is just a booking away, with rates starting at $63 per vehicle.
So pack your bags, book your Brightline+ Mears ride, and prepare for a comfortable and effortless journey.
Book Your Brightline+ Mears Ride Now
Location and Details

Brightline Orlando Station
Address
10705 Jeff Fuqua Blvd
Orlando, FL 32827
Station Hours of Operation
Daily: 3:45 AM - 12:30 AM
Parking Hours of Operation
Daily: Open 24 hrs.
Phone Number
Frequently Asked Questions
Brightline+ Mears offers two main services: Shared Connect Shuttles for convenient group travel, and Luxury Private Rides for a more exclusive experience. Both services connect you to key destinations in Orlando, including the Orlando International Airport and Walt Disney World® Resorts.
Yes, children aged 3 and under can ride the Shared Connect Shuttles for free.
You can book your ride through the designated links:

For Shared Connect Shuttles, pickups and drop offs happen at Level 1 of Terminal C, just a short walk away from the train station. For Luxury Private Rides, your driver will pick you up and drop you off directly at the train station and will display your name on a tablet for easy identification.
Yes, making reservations in advance is recommended to ensure availability and an optimal travel experience.