Offers
Get to and from the station with Brightline+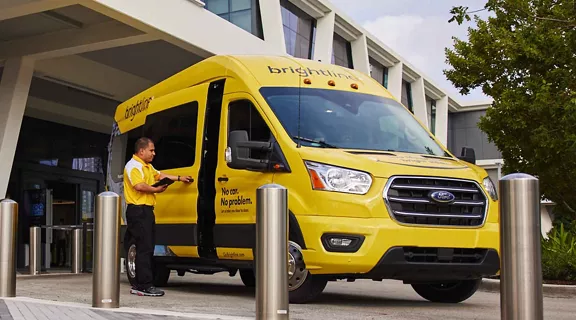 Getting there just got easier, for $10 for the first Guest and $5 for every additional rider in the same party.
Brightline+ Fixed Route Shuttles now offer pickup and dropoff service to and from Brightline MiamiCentral and Fort Lauderdale Stations. We also offer complimentary shuttles to and from Aventura Mall at Brightline Aventura Station.
Take a ride to or from the station to MIA International Airport or FLL International Airport. You can also hop on at one of our pickup locations, pay when you board, and get an affordable ride to the station.
Shuttles are available on a first come, first served walkup basis with a same-day Brightline train fare. Shuttles depart 10 minutes after train arrival and offer service to and from Brightline stations.
Pickup/Drop Off Locations
Brightline MiamiCentral Station
East Exit (Past Joe & The Juice)
MIA Terminal D
Arrivals Level, Door 2
MIA Terminal E
Arrivals Level, Door 7
MIA Terminals G & F
Arrivals Level, Door 15
MIA Terminals H & J
Arrivals Level, Door 21
Brightline Fort Lauderdale Station
Terminal 1
Ground Transportation Zone B, Arrivals Level
Terminals 2 & 3
Ground Transportation Zone F, Arrivals Level
Terminal 4
Ground Transportation Zone B, Arrivals Level
Brightline Aventura Station
Aventura Mall
Upper Level, Outside of Serafina Restaurant, Adjacent to Valet Parking
Location and Details

MiamiCentral Station
Address
161 NW 6 St,
Miami, FL 33136
Shuttle Service Hours Of Operation
MIA Airport Connector
Daily 6 AM - 11 PM
Station Shuttle Departures
10 minutes after every train arrival
Phone Number
Location and Details

Aventura Station
Address
19796 West Dixie Highway,
Miami, FL 33180
Shuttle Service Hours Of Operation
Aventura Mall Connector
Everyday: 8AM - 8PM
Station Shuttle Departures
Every 30 mins
Phone Number
Location and Details

Fort Lauderdale Station
Address
300 NW 2nd St,
Fort Lauderdale, FL 33311
Shuttle Servicep Hours Of Operation
FLL Airport Connector
Weekdays: 5 AM - 12 AM
Weekend: 7 AM - 1 AM
Station Shuttle Departures
10 minutes after the southbound train arrival
Phone Number