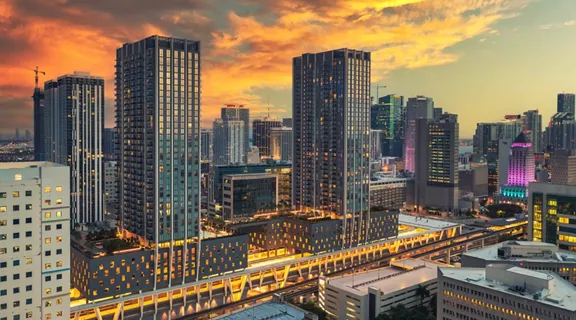 November 7, 2023
BRIGHTLINE MIAMICENTRAL SIGNS BROOKLYN DUMPLING SHOP
The Comras Company leads retail leasing of the transformative downtown hub
MIAMI (Nov. 7, 2023) – Brightline MiamiCentral signs Brooklyn Dumpling Shop, the first in a series of upcoming new tenant announcements within the six-block transit-oriented development in the heart of Downtown Miami. Opening Summer 2024, Brooklyn Dumpling Shop is a fast-growing, technology-driven, contactless concept serving classic dumplings, bowls, and bites.
The Comras Company, a well-established Miami-based commercial brokerage firm, is representing the limited-remaining prime retail leasing at Brightline MiamiCentral. This includes strategically positioned restaurant spaces situated in the heart of the "New Downtown Miami." The Downtown Miami neighborhood is experiencing a remarkable surge in growth and expansion, with numerous residential and commercial developments currently underway. This dynamic transformation is largely attributed to the allure of the intercity rail hub, making Brightline MiamiCentral a pivotal destination for businesses.
"The Brooklyn Dumpling Shop team looks forward to opening our first South Florida location in the heart of Miami - Brightline MiamiCentral," said Brooklyn Dumpling Owner and Founder Stratis Morforgen. "Attracting residents, executives and visitors, now even arriving from Central Florida every hour, we look forward to this high-traffic neighborhood serving as a perfect location in this market."
Brooklyn Dumpling Shop cuisine includes traditional dumplings such as Chicken Teriyaki Potstickers and Shrimp & Vegetable Shumai alongside unique Crispy Dumpling flavors like Bacon Cheeseburger, Chicken Parmesan and Buffalo Ranch Chicken.
"South Florida continues to experience historic growth and investment with Downtown Miami, one of the epicenters of this capital movement," said Michael Comras, president of Comras Company, who along with Jeff Evans and Michael Silverman are spearheading the leasing and the merchandising strategy. "MiamiCentral is a unique live-work-play destination with the added appeal of seamless connections to South Florida city centers and now Central Florida."
Located at Northwest 1st Ave., between Northwest 3rd St. and 7th St. MiamiCentral is the premier business, leisure, dining, and transportation hub with tenants including Joe and the Juice, Chick-Fil-A, Starbucks, Powerhouse Gym, and class-A office space. The destination creates a focal point among Miami Worldcenter's 2,000+ residential units and 250,000 square feet of retail, Miami Government Center, Bayfront Park, Mana Common, the Flagler District and Block 55.
"Brightline MiamiCentral is a transformative transportation hub, that continues to re-define the future of downtown and impact investment in the community," shares Patrick Goddard, president of Brightline. "We look forward to welcoming Brooklyn Dumpling Shop and more offerings to MiamiCentral in partnership with The Comras Company, bringing the best in retail and restaurants to the heart of downtown Miami."
MiamiCentral is also home to ParkLine Miami and its 816 fully occupied luxury rental residences situated atop the Brightline station and retail space. Office tenants within the encompassing 2MiamiCentral and 3MiamiCentral include Blackstone, Ernst & Young, Uber, Carlton Fields and Viacom.
MiamiCentral is a unique destination with unrivaled transportation options for connecting residents, employees, visitors, and the local community through easily accessible major roadways and rapid transit options including Metrorail, Metromover, Tri-Rail and Brightline connecting Miami, Aventura, Fort Lauderdale, Boca Raton, West Palm Beach and now Orlando. With millions of guests projected to ride the rails each year, MiamiCentral is transforming South Florida's urban landscape.
For MiamiCentral leasing information, visit MiamiCentral.com, call 305-532-0433 or contact miamicentral@comrascompany.com.
# # #
ABOUT MIAMICENTRAL
MiamiCentral is a 6-block transit-oriented development (TOD) in the heart of Downtown Miami. This transformational project is anchored by Brightline's Miami Train Station, features 816 luxury residences, 130,000 sf of retail, class-A office space, and unprecedented connectivity to Metromover, Metrorail, and Tri-Rail. With Brightline service to Orlando, MiamiCentral is the first-of-its-kind lifestyle destination for transit, dining, entertainment, living and business.
ABOUT BRIGHTLINE
Brightline is the only provider of modern, eco-friendly, intercity rail in America. The company currently serves Miami, Aventura, Fort Lauderdale, Boca Raton West Palm Beach and Orlando. Brightline was recognized by Fast Company as one of the Most Innovative Companies in travel, offering a guest-first experience designed to reinvent train travel and take cars off the road. Brightline plans to bring its award-winning service to additional city pairs and congested corridors across the country that are too close to fly and too long to drive, with immediate plans to connect Las Vegas to Southern California. For more information, visit www.gobrightline.com and follow us on Facebook, Instagram, and X.
About The Comras Company
The Comras Company is a boutique real estate development and leasing firm that has been a driving force behind the transformation of South Florida's most desirable commercial and mixed-use districts over the past 30 years. The Company provides services in retail, restaurant and showroom leasing, investment sales, consulting, property management and tenant representation. For more information, please visit www.comrascompany.com.
Media Contact
Vanessa Alfonso, Brightline
vanessa.alfonso@gobrightline.com